How to have a healthy happy horse with Dr. Madalyn Ward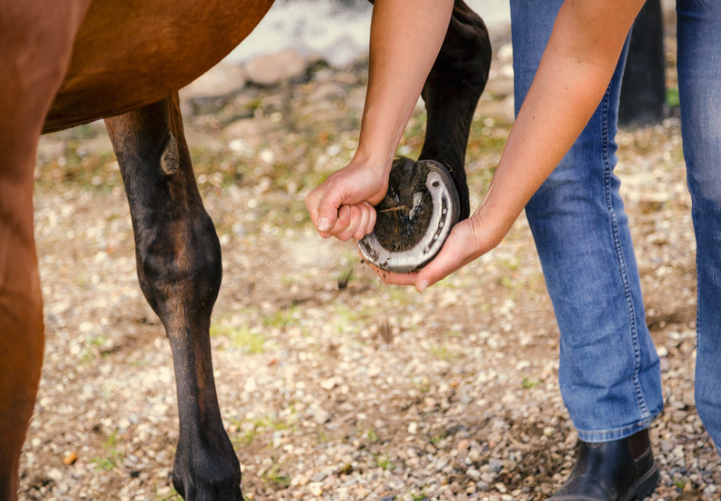 Does your Metal horse have sore heels?
The Metal horse temperament is generally strong and tough but their achilles heel is – their heels. The Metal horse has a tendency to contracted, sore heels. Confirmation can play a part as many Metal horses have short, upright pasterns and boxy hooves. This naturally upright hoof can become contracted when shoes are applied early in the horse's life.

Circulation to the front legs can be a challenge for the Metal horse and this is related to his diaphragm and sternum. The Lung and Large Intestine are the organs associated with Metal and both of these organs lay right next to the diaphragm. Any inflammation of the lungs or large intestine can cause a blockage in normal movement of the diaphragm and in turn pulls on the sternum where the diaphragm attaches. Even a slight twist in the sternum will cause major should stiffness and interfere with the blood and nerve supply to the front leg.

Reasons for front heel pain in the Metal horse:
Naturally upright, boxy hooves
Shoes applied at a young age
Circulation problems secondary to a twisted sternum

Prevention of sore heels involves a careful evaluation of shoeing and trimming methods. If possible keep the Metal horse barefoot so his heels can have normal motion and function. If the Metal horse must be shod, pay special attention to his heels and use fill in pad material to provide stimulation to the frog. The diet of the Metal horse should include adequate quality fat the nourish the skin and internal hoof tissues.
The Metal Balance formula supports healthy joints and connective tissue. Regular osteopathic evaluations will help assure there are no twists in the sternum that could affect blood and nerve supply to the shoulders and front legs.

Prevention of heel pain in the Metal horse:
Careful trimming and shoeing only when absolutely necessary
Adequate fat in the diet
Regular osteopathic evaluations of the sternum

Once heel pain has developed in the Metal horse it can be very hard to treat. The Metal horse has a high pain threshold so by the time he limps there is significant pathology already developed. Spine and Nerve is one of the best for the Metal horse with chronic heel pain. Acupuncture can the used to increase circulation and provide local pain relief.

Prevention is sure a better plan. Madalyn
For additional help in understanding the individual needs of each Five Element horse
temperament check out Horse Harmony and our online course.
Master Horse Temperament Typing Consultants
Kim Bauer
Kim Bauer is a well-known expert and educator in the field of animal acupressure and massage. Kim began her studies in animal acupressure and Traditional Chinese Medicine in 1999 and is highly regarded here in the U.S. and internationally. She is nationally certified by the National Board of Certification for Animal Acupressure and Massage (NBCAAM) and is an Instructor for the Northwest School of Animal Massage (NWSAM).
In January of 2005, Kim created her own business, Animal Ease Therapies, LLC. She works with clients to create individualized plans for each animal that integrates her knowledge of temperament typing, acupressure and massage. Some of Kim's additional training has included; Equi-taping, Bach flower essences, reiki, homeopathy, Chinese herbs, and equine neurological and muscle disorders.
Kim holds a Bachelor of Arts in Philosophy and a Master of Arts in Teaching. She was a middle and elementary school classroom teacher for 14 years before choosing to blend her teaching abilities with her love of animals.
Please contact Kim for a consultation at Kim@AnimalEaseTherapies.com
Shari Meischen
Shari started her equestrian journey as an adult amateur, when she moved to the Texas Hill Country. She spent several years searching for the right equine partner and trying to make things work with the wrong horses. Several times she found a good horse, only to find it wasn't a good match for her.
During her horse search, she was introduced to the book "Horse Harmony", by Dr. Madalyn Ward. That changed how she looked at horses and gave her a real understanding for why she was struggling with some horses. She used the book to guide her in finding her perfect partner, Finnegan, an Irish Draught gelding with a big heart and a great sense of humor. Together, they are learning dressage and embarking on a fun, new jumping career.
Shari quickly discovered she had a true passion for temperament typing and helping owners to better understand their horses, using the Horse Temperament principles.
After retiring from a long corporate career, she chose to pursue training as a Horse Temperament Consultant, in order to further her work helping horses and their people build better partnerships. She is also training in holistic equine nutritional studies, through a mentorship with Dr. Ward.
Please contact Shari directly for a consultation at SaMeischen@gmail.com
Please visit www.HorseTemperament.com for more information.
++++ Copyright | Getting On and Off the List ++++
Unless otherwise attributed, all material is written and edited by Madalyn Ward, DVM. Copyright (c) 2021 HolisticHorsekeeping.com and Madalyn Ward, DVM. All rights reserved.
If you like the material in this newsletter please let your friends know about it. You may reprint material in other electronic or print publications provided the above copyright notice and a link to http://www.holistichorsekeeping.com is included in the credits.
You can get off this list by sending an email to info@holistichorsekeeping.com.
When you forward this material, please send the entire newsletter. Thanks!
Please also enjoy all of Dr. Ward's web resources:
http://www.holistichorsekeeping.com
http://www.horsetemperament.com
http://blog.horseharmony.com
https://www.facebook.com/HolisticHorsekeeping
https://www.facebook.com/HorseHarmony