November 2015 – Mid Month Update
Holistic Horsekeeping
How to have a healthy happy horse
=*=*=*=*=*=*=*=*=*=*=*=*=*=*=*=*
In This Issue:
1. Horse Temperament – Cerise gets her feet trimmed
2. Want to Have a Better Understanding of Your Horse?

=*=*=*=*=*=*=*=*=*=*=*=*=*=*=*=*
1. Horse Temperament – Cerise gets her feet trimmed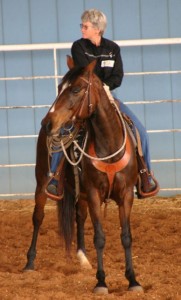 I brought my Fire mare, Cerise, in today to trim her feet. It was a little windy and her buddy, Remi, was running around and hollering for her. Then our dog started barking. I started to pick up Cerise's left hind to clean it and she jerked it away. Cerise was starting to get anxious and she immediately passed some loose manure. Cerise was trying hard to hold it together but I could see a meltdown moment coming.
I stepped back and looked at things from a Fire horse perspective. First, I have spent very little time with Cerise over the last month. As a Fire horse temperament, Cerise likes attention. I am 2 weeks late in giving her her polyglygan shot to help her with arthritis in her left stifle. Fire horses do not handle pain and it probably hurt her when I picked up her left hind. I also missed giving Cerise her Fire horse balancing formula the first 8 days of the month. I thought since I wasn't working her at all she would not need it. I was wrong. For a Fire horse the lack of attention was more of a stress than being worked.
I apologized to Cerise for not giving her the time she deserved, acknowledged her sore stifle and the less than perfect conditions. I gave Remi some Focus Biscuits which settled him right down. I tied the dog up. With these issues addressed and Cerise feeling more appreciated I turned back to my trim. I let Cerise rest her sore leg on the hoof stand and take it down any time she needed to rather than holding her leg to trim it. Cerise remained a bit nervous but allowed me to complete her trim without incident. I gave her some feed with her Fire balancing formula and her polyglycan injection.
This experience with Cerise is one reason I developed the balancing formulas. Cerise is on a great foundational nutritional program. She looks great with a shiny hair coat, good feet, and her weight is perfect. She gets Thrive feed, a probiotic/algae blend every day to support her digestion and she has access to hay 24/7 from a small hole hay net. Cerise gets a small flake of alfalfa if there is no green grass for her to eat in her pasture area. Despite a pretty natural lifestyle, Cerise can still show emotional distress when she is put under pressure. The balancing formulas are designed to provide the specific nutrients each horse temperament type needs to help them handle stress without increasing their overall nutrient intake.
I suspect that Cerise would have been more relaxed if I had given her her maintenance dose of balancing formula the first 8 days of the month. This would have helped her cope with the recent lack of attention and unsettling atmosphere. It is sometimes hard for us to control the stress in a horse's life but we can give them the targeted nutrition they need to deal with it. By replacing these stress nutrients we help your horse avoid developing emotional and physical symptoms.
2. Want to Have a Better Understanding of Your Horse?
At Holistic Horsekeeping we're all about happy, healthy horses and we've got the support resources help you learn how to keep your horse happy and healthy. By applying Dr. Ward's temperament typing model, you'll get a better understanding of your horse's behavior, health concerns, and nutritional needs. To help you learn more about your horse according to his or her temperament type, check out these great resources:
Horse Harmony book
Five Element Temperament Type Audios
Five Element Temperament Type ebooks
Five Element Temperament Type Consult
Tallgrass Online Course
Mentoring Program one on one with Madalyn Ward, DVM
HHH Group Five Element Temperament Type Forum
Five Element Temperament Type Blog Articles
++++ Copyright | Getting On and Off the List ++++
Unless otherwise attributed, all material is written and edited by Madalyn Ward, DVM. Copyright (c) 2015 HolisticHorsekeeping.com and Madalyn Ward, DVM. All rights reserved.
If you like the material in this newsletter please let your friends know about it. You may reprint material in other electronic or print publications provided the above copyright notice and a link to http://www.holistichorsekeeping.com is included in the credits.
You can get off this list by sending an email to info@holistichorsekeeping.com.
When you forward this material, please send the entire newsletter. Thanks!
Please also enjoy all of Dr. Ward's web resources:
http://www.holistichorsekeeping.com
http://www.horseharmony.com
http://blog.horseharmony.com
https://www.facebook.com/HolisticHorsekeeping
https://www.facebook.com/HorseHarmony
Twitter: madalynward