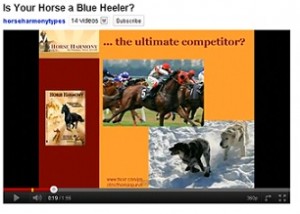 If your horse was a dog, would he be a Blue Heeler?
If a strong competitive streak, boldness, courage, high energy, and a
tendency toward destruction when bored are characteristics of your
horse, then he might just be a Blue Heeler! These character traits
would also make your horse a tough Wood temperament type.
Our latest YouTube video about the Wood horse temperament type and the
Blue Heeler is now posted. Check it out! Cick the image below to play the
video.
If you cannot view the video above, please click this link:
Is Your Horse a Blue Heeler?
If you missed our fun videos on the other four pure temperament types
comparing dogs and horses, visit our
Horse Harmony Channel on YouTube
To get all the updates, news, tips, and fun information on Five
Element horse temperament types, check out the
Horse Harmony Facebook Page
(please hit the Like button if you like what you see!)
I always welcome comments about the Horse Harmony Temperament Typing
system (and the different types) on our Facebook page.
If you liked this post, please leave a comment or get more great holistic horse info at Holistic Horsekeeping, Horse Harmony Test, Horse Harmony, and on Twitter.