Holistic Horsekeeping
How to have a healthy happy horse
================
In This Issue:
Kim Bauer-Handling/Training suggestions for each Temperament Type
Horse Harmony/Horse Temperament Resources
================
1. Kim Bauer-Handling/Training suggestions for each Temperament Type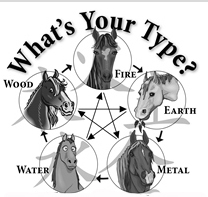 The video below from the You Tube "Webinars With Wendy" series featuring Kim Bauer, is an excellent resource for learning how each temperament type needs a different approach to training. Kim is a well-known expert and educator in the field of Animal Acupressure and Massage. She began her coursework in Animal Acupressure and Traditional Chinese Medicine in 1999 and then in January of 2005 after fourteen years as a Middle School and Elementary School teacher, Kim created her business, Animal Ease Therapies. She creates individualized, integrated bodywork sessions for each animal that combines her knowledge of Acupressure, Massage, Temperament Typing and numerous other modalities that she has studied over the years. Additionally, Kim is an instructor for the Northwest School of Animal Massage and oversees and teaches the Acupressure certification programs as well as a number of online course offerings.
Thanks to Wendy Murdoch for creating this series and sharing lots of great horse knowledge with us all. If you didn't see the video she did with me, check it out too at https://www.youtube.com/watch?v=ul6wSLQ_ka0&feature=youtu.be.
If the video does not show up in your browser or you are viewing this post via email, please click this link instead to see it – https://www.youtube.com/watch?v=hv4xzOqZnH8&feature=youtu.be. ~ Madalyn
2. Horse Harmony/Horse Temperament Resources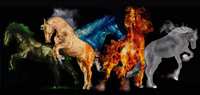 Have you read Horse Harmony: Understanding Types and Temperaments and Horse Harmony: A Feeding Guide? If you are new to the temperament typing system developed by Madalyn Ward, DVM, then this is an excellent place to start. You can find both in paperback and digital Kindle formats on Amazon by clicking the links above on the book titles. You can see a preview of Horse Harmony HERE to see what it's all about. Then surf over to https://horsetemperament.com/ and you'll find plenty of other temperament typing resources including help in typing your horse from one of our specially trained temperament consultants, an overview of each type, an online class on temperament typing, balancing formulas by type and more.
++++ Copyright | Getting On and Off the List ++++
Unless otherwise attributed, all material is written and edited by Madalyn Ward, DVM. Copyright (c) 2020 HolisticHorsekeeping.com and Madalyn Ward, DVM. All rights reserved.
If you like the material in this newsletter please let your friends know about it. You may reprint material in other electronic or print publications provided the above copyright notice and a link to http://www.holistichorsekeeping.com is included in the credits.
You can get off this list by sending an email to info@holistichorsekeeping.com.
When you forward this material, please send the entire newsletter. Thanks!
Please also enjoy all of Dr. Ward's web resources:
http://www.holistichorsekeeping.com
http://www.horsetemperament.com
http://blog.horseharmony.com
https://www.facebook.com/HolisticHorsekeeping
https://www.facebook.com/HorseHarmony
Twitter: madalynward