I have a patient in the barn right now who has some stomach problems. His name is Bud and he would died last year except that his owner took such good care of him. Bud quit eating and was having some colic episodes. After trying several nutritional programs and remedies we finally got a response to pulsatilla, packets of algae, probiotics and enzymes and a glutamine supplement.
Bud gained most of his weight back but when the weather got really hot he backed off again on his eating. We still had him on the essentials and glutamine but had stopped the homeopathic remedy. I prescribed 1 dose of pulsatilla 30c but since Bud's owner had to leave town he came to stay with me.
The Pulsatilla seemed to help Bud and he ate very well for the first few days. Then he backed off again and started losing weight. I was very tempted to use a new homeopathic remedy because the response to pulsatilla had been so brief but when I studied the remedy and observed bud closely it still fit his case. I decided to give 3 doses of the pulsatilla 12 hours apart.
For 24 hours after the last dose of pulsatilla I saw no change but Bud was not worse either. After 48 hours Bud started eating a bit better and 3 days after the last dose he started nickering for more food. I had also added some KLPP to Bud's diet and at first he did not like it but now he is eating it well. It has been a week now and I feel the combination of the pre and probiotics, the glutamine and algae to nourish the cells of the intestinal lining and the vibrational support of the pulsatilla are all working together for a cure.
I was very tempted to change Bud's program and if he has another setback that does not respond to the pulsatilla I have a remedy in mind. The overall improvement in Bud's attitude despite the continued hot, muggy weather makes me think Bud is on a curative path. Homeopathic remedies do not actually heal but instead stimulate the body's healing forces so it is so important to wait for response and give good nutritional support.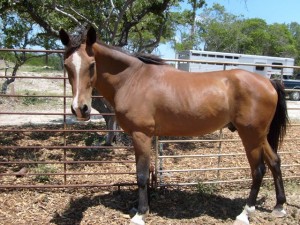 It is such a pleasure to look out my window and see bud munching on his hay or tromping up to his stall to see if I have put more snacks in his bucket. He is a very friendly little horse and a pleasure to have around. Madalyn