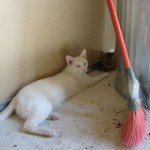 Life on the farm is never dull but last Thursday was particularly eventful. I have new baby nubian goats so I ordered a disbudding iron to burn around the horns so they don't grow. I have seen this done but not actually done it myself so I was quite nervous. My neighbor, David, is great with this kind of thing so he came to help.
It turned out the disbudding went well and the kid acted like nothing ever happened. What a relief. Next project for the morning, while I had David's help, was to butcher 3 young roosters I had raised. These were the chicks I nursed through the extreme cold last winter after the hen weaned them early. I hardly slept a wink the night before but the process was very quick and I don't think they suffered.
Owl, my cat, watched the rooster killing with wide eyes. He is used to me taking care of animals so he was obviously shocked. Later that day I looked up to see Owl heading across the driveway with a baby chick in his mouth. Well, the chase was on and I finally got him to drop it.
Owl will occasionally harass an adult chicken but he has never bothered the chicks. I brought him in and had a talk with him. He was not very apologetic so I looked him right in the eye and told him we don't kill the chickens. He gave me his best cat squinty eye and said back to me that I just did. I had to admit he had a point. Madalyn
PS Owl will be living in the house until the chicks get older.
If you liked this post, please leave a comment or get more great holistic horse info at Holistic Horsekeeping, Horse Harmony Test, Horse Harmony, and on Twitter.