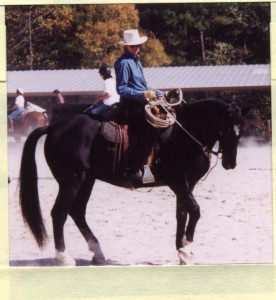 When I say a job I don't mean go around a course of jumps or do a reining pattern, I mean if you get in a bind can your horse step up and help you. For example, I was riding with a friend that was taking a young Wood horse temperament colt out on the trail for the first time. The colt did great at first but the further we got from the trailer the more rambunctious he became. I was on my Yang Ming horse temperament gelding, Remi, who had not had much riding recently but had a solid training foundation.
I don't know if anyone had ever ponied another horse off him but he knew how to work off leg cues so it was not difficult for him to step up and do the job. I was able to take the rein of the unruly colt and use Remi to not only lead him but actually get him to move his feet so that he became more focused.
As a Yang Ming horse temperament, Remi was not intimidated by the antics of the Wood horse temperament colt. I would not have asked Cerise, my Fire horse temperament mare, to do something like this. I have asked Cerise to step up and lead gentle horses that were nervous about crossing water. Cerise has also stepped up many times to show the way through scary places on the trail but she is too sensitive to let another horse get rough with her.
My riding has not always been refined enough to be of help to anyone else and in the past I was often the one needing help. My mentor, Linda Hoover, has taught me about refining my riding and horsemanship so I could count on my horse to be there as a partner. Many riding disciples teach specific skills but refined horsemanship surpasses this and allows you to establish a solid training foundation and have these tools to reach for when needed.
My work with Linda helped me come the place of looking at horse temperament because I thought I would be able to use my refined horsemanship to train any horse to do anything which ended up not being correct. Combining the understanding of horse temperament and a solid foundation of refined horsemanship skills, such as teaching the horse to work off my legs and respond to shifts in my weight while getting a task done, have made riding more of a pleasure and much more safe.
Linda's refined horsemanship is not limited by any specific disciple. She has competed in dressage, stock horse and gaited events and her clinics and competitions welcome all styles of riding. Refined horsemanship is all about getting a job done while maintaining finesse and style. Tasks and obstacles are designed to showcase partnership, not submission. Both the horse and rider must be enjoying themselves to achieve high marks in the judging.
While I am promoting the understanding of horse temperament, Linda is advancing refined horsemanship. She has started an association for people like me who want to take riding to a level of refinement and still have a well rounded horse that can excel in the ring, on a ranch or trail. I am blessed with a fantastic support group but Linda is still putting together her team.
The United States Refined Horsemanship Association is coming together and has already developing a following of committed, passionate horsemen who want, most of all, to have a working relationship with their horse. Linda has the vision and passion but no one person can take a movement like this to its full potential. I talked with Linda this morning and she said she is wanting to find someone who shares her passion and can bring writing and marketing skills to the table. I believe that person could be someone who follows this blog.
Horse temperament typing and refined horsemanship go together to make interacting fun and rewarding for the horse and person. I always invite in partners who have a passion for horse typing and invite those who feel the same about refined horsemanship to contact Linda and become a part of this unique and special association. You may even be the person she is looking for to share in the creative process. Madalyn