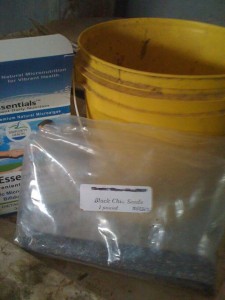 If buying gifts for the holidays has made you crazy, then shopping for all the "right" supplements for your horse can make you downright insane. Not only do you need to visit multiple stores to buy various products (whether you shop in brick-and-mortar or online stores), but many stores don't carry holistic horse feeds and supplements specifically for your horse or your horse's temperament type.
This is Important Because …
Buying the right food to suit your horse's temperament type is important. Not only will it give your horse the best chance to be healthy and happy, but feeding the right kinds of food can mean the difference between a regular feed bill and an unexpected vet bill.
For instance, did you know that the Metal temperament horse can't stand too much green food, like alfalfa, yet thrives on high-quality fats like those found in chia seeds?
Or did you know that the Fire horse often needs a lot of digestive support in the form of prebiotics while the Earth temperament horse needs more help in the form of actual enzymes?
And then there's the fact that certain performance horses, like Wood temperament types, do really well on SUCCEED to prevent or soothe ulcers, while Water temperament horses may need supplements that focus on relaxation, such as Relax Blend or RelaxHer from Arenus/Equilite.
… and we haven't even mentioned the joint supplements, products for Cushing's or IR, or the numerous other holistic products your horse might "suddenly" need.
Horse Feed: Feeding According to Temperament Type
Every horse temperament has very different feed and supplement needs,
which is why I focus on feeding each of the different temperament types on the Horse Harmony Blog (http://blog.horseharmony.com). If you want to learn more about the perfect feeding program to support your horse's digestive, immune, emotional, joint, and uro-genital system, check out the blog.
Another great source of information is the new Horse Harmony Feeding Guide, which is now available in limited quantity in the store.
Holistic Horsekeeping Autoship Program
To make all of this horse feed and supplement shopping easier for you, the horse owner, I designed the Holistic Horsekeeping Autoship Program. With this program, not only can you arrange to have certain products delivered to your door automatically so your horse never runs out, but you can also find most holistic horse products in a single place. You can also cancel at any time with no obligation.
In addition, if you join the Autoship Program, you have the ability to order a much wider range of holistic horse products. This is only available to Autoship members. What's more, if you want a specific product that we don't carry, we will do our best to get it for you. We will also do our best in terms of price-matching.
Our goal? To make it as simple as possible for to keep your horse as healthy and happy as possible.
Find Out More …
Get all the details about this great new program here:
http://www.holistichorsekeeping.com/autoship/index.html
Browse the wide variety of special products available for Autoship
members here:
http://www.holistichorsekeeping.com/autoship/browse.html
And, if you have any feedback, we would LOVE to hear from you. Our goal is to make feeding your horse simple, useful, and cost-effective!