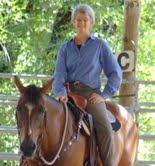 Madalyn Ward, DVM shares her answers to specific holistic horse care questions from clients. To see more questions and answers on real holistic horse care situations check out the Horse Health Hotline postings.
Client 1:
Q – How do you feel about using Quest dewormer for encysted small strongyles?  Are they a concern in a healthy horse? Do we need to use a dewormer for it?  Is it a pretty safe dewormer?
A – Quest is strong but effective against encysted strongyles. Panacur Power Pac is another good option. Have you done a fecal exam? If you have low egg count on a fecal and your horse looks healthy then you don't want to use any chemical dewormer. The best time to do a fecal check or deworm, if needed, is just before the full moon. Make sure you follow any chemical dewormer with several days of quality probiotics.
Client 2:
Q – Where I board I am required to use conventional worming products. Stool samples for all the horses were negative, but I am still required to worm. Why is this necessary if stools were negative? What wormer do you recommend for senior horses? Also, why do you recommend worming according to the moon phases?
A – There is no good reason to deworm a horse showing a negative fecal test. If you have to give a dewormer then I would choose Strongid paste.
Worms may be more active in the lumen of the intestine around the full moon so it is easier to flush them out. I can't prove this theory but I do tend to see more parasite eggs in samples done near the full moon.
If you enjoyed this post or found it helpful, let me know by leaving a comment below. You can also find me on Facebook where I always appreciate a LIKE. To order any of the products mentioned in this post or other  products for you or your horses, please visit my online store.