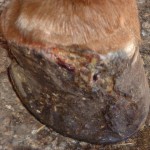 It seems like springtime often brings on horse injuries and the question of how best to treat them. Many topical products available for treating horse injuries contain irritating antiseptics and conventional vets can be quick to reach for anti inflammatory drugs and antibiotics. I prefer a more natural plan.
Homeopathy for common horse injuries:
Arnica – Always good to start with. It stops bleeding and keeps swelling down. Higher potencies are best in horses. I give Arnica 1m twice a day for 3 days.
Rhus tox – Great for sprains and strains to tendons and muscles. I give Rhus Tox 30c twice a day for 3 days
Ruta grav – Best for injuries to ligaments around joints, especially the stifle. I give Ruta 30c twice a day for 3 days and once a week until injury is healed.
Hypericum – Good for puncture wounds and injuries to nerves that are very painful. I give Hypericum 1m 2 to 4 times a day until pain diminishes.
Symphytum – Serious tendon injury or broken bones. Once swelling and acute inflammation is down I give Symphytum 30c twice a day for 3 days and then once a week until healing is complete.
Topical treatments for common horse injuries:
Draw solution – This natural mineral salt product is perfect for all acute horse injuries. Draw is gentle to the tissues, fights infection and brings down swelling, pain and heat. It is perfect for open wounds or as a soak for sore feet or hoof abscesses. My professional clients go through this product like water and swear by it.
Sore no More – This herbal liniment is safe for acute horse injuries that do not break the skin. It is perfect for sore and strained muscles. To detect mild horse injuries you can apply Sore no More to clean, dry skin and it will suds up if there is underlying inflammation.
Formula 11 – This herbal liniment comes as a powder and you can mix it up as needed. It is best used on chronic horse injuries after initial heat and swelling are down. Formula 11 will generate heat in the tissues and increase blood supply to bring healing nutrients and carry away tissue debris. Care should be taken if using Formula 11 under a wrap as it can cause a mild blister. I love this product for slow healing horse injuries such as suspensory ligaments or low back strains.
Most common horse injuries will respond beautifully to homeopathy and natural topical products. Occasionally, severe injuries will require additional drugs to control inflammation and pain or antibiotics for infection. These products should be used for as brief a time as possible because they both interfere with your horse's overall health and healing.
Homeopathic remedies are available in most health food stores in 30c potencies. We offer a first aid kit which includes the higher potencies of Arnica and Hypericum  in our online store. We also carry these topical products, which I have found so helpful. Hopefully your horse won't have any injury but it is good to be prepared with products in hand just in case. Madalyn
If you liked this post, please leave a comment or get more great holistic horse info at Holistic Horsekeeping, Horse Harmony Test, Horse Harmony, and on Twitter.