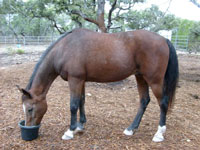 Ever since I was introduced to chia seeds benefits many years ago as a feed for horses, I am completely sold on them as a whole food source that gives me consistent results. I have used flax seeds and oil, pumpkin seeds, sunflower seeds, black sesame seeds, rice bran, coconut oil and soy oil, but none of these has given me the consistency of chia seeds benefits. I consider chia seeds to be the perfect feed for horses that need some extra fat. They are nutrient dense and balanced in omega 3 fatty acids which makes them perfect for insulin resistant and Cushing's horses. I have seen that even small amounts of chia seeds appear to have a positive effect on hair coat and hoof health.
Whole Food Supplements for Horses
My first choice for horse supplements are nutrient dense whole foods. Whole foods are nutrient dense products that can be added to our nutrient depleted horse feeds to make them more complete. Examples of nutrient dense whole foods that can be easily added to horse feed include macro algae such as kelp, micro algae such as AFA, chlorella or spirulina, sprouted grains and chia seeds. Alfalfa can be considered a nutrient dense whole food. The roots of properly grown alfalfa go deep into the soil where minerals are still available. Because it can be so nutritious, alfalfa should not be fed in large amounts unless a horse is in very hard work. I also include pre and probiotics, along with digestive enzymes in the whole food category. While not actually foods, they do so much to support the body's ability to properly digest and utilize food.
Chia Seeds Benefits for Nutrition
Chia seeds are high in soluble fiber and omega-3 fatty acids. They have a positive effect on digestive health, heart health and endurance and performance. In fact chia seeds have the proper nutritional ratio of omega-3s to omega-6s. They are rich in Vitamin B, higher in niacin than corn, rice or soy, are a great source of calcium, phosphorus, magnesium, potassium, iron, zinc and copper. They also provide boron which is a mineral that aids in the absorption of calcium. With all this you can see the nutritional value and chia seeds benefits these little seeds provide when added to your horse's diet. The anti-inflammatory properties of chia seeds can help boost a horse's immune system thus reducing symptoms of arthritis, recovery time after strenuous exercise and in reduction of occurrence and severity of laminitis. The high concentration of soluble fiber and the mucilage gel formed when presented with water aids the digestive system in trapping sand and debris thus helping prevent colic and ulcers. Another aspect of chia seeds benefits is the amount of protein they provide, significantly more than wheat, rice, barley or oats.
The US Chia Story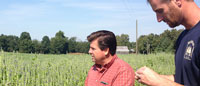 Since chia seeds benefits for my horses and the horses I treat are so important to me, I look for the highest quality seeds I can get. I am now offering in my webstore an American grown brand of chia seeds that I believe are of very high quality. US Chia is grown in Kentucky whereas most other chia seeds sold in the U.S. are imported from either South America or Australia. I like supporting a company that is American based. They are able to eliminate the middle man and work closely with Kentucky farmers to monitor how the seeds are produced, cleaned and stored and to make sure they are free from contamination and chemicals. All this makes a product that is more in accordance with a sustainable living model with a reduction in environmental impact.
US Chia was formed by four classmates, Scott Serdoz, Jacy Cruz, Keith Starling, and Zack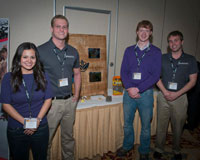 Pennington. Scott, from Lexington, Kentucky began researching new plant varieties while studying at the University of Louisville. In 2005, he began working with chia which is a plant native to Latin America. As he explored the possibilities of growing chia in the U.S. the idea for a business was born. In 2010, he then turned his energies to discovering how to turn this idea into an actual business. Joining forces with his classmates, Kentucky Chia was formed in 2011. This company began producing chia seeds as a feed additive for horses and went on to win top honors in local, state and international competitions for business plans. Zack Pennington was selected to be the company's CEO and after conducting successful production runs in Kentucky and Arizona, the company changed its name to US Chia to reflect the excitement of bringing this new crop to the United States as well as the value and pride they take in producing their chia in the U.S.
If chia seeds sound like a whole food additive your horse could benefit from, I invite you to visit the Holistic Horsekeeping webstore and help us in welcoming the US Chia family as the newest addition of high quality vendors we use to supply our horse products.
If you enjoyed this post or found it helpful, let me know by leaving a comment below. You can also find me on Facebook where I always appreciate a LIKE. To order any of the products mentioned in this post or other  products for you or your horses, please visit my online store.
images courtesy of uschia.com