August 2014 – Mid Month Update
Holistic Horsekeeping
How to have a healthy happy horse
=*=*=*=*=*=*=*=*=*=*=*=*=*=*=*=*
In This Issue:
Horse Temperament: Remi is a barefoot horse again
=*=*=*=*=*=*=*=*=*=*=*=*=*=*=*=*
Horse Temperament: Remi is a barefoot horse again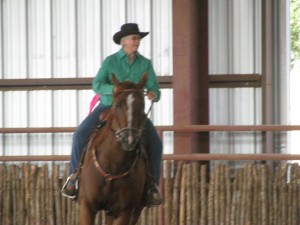 Remi, my Yang Ming (Metal/Earth), QH gelding, is back to being a barefoot horse. I first got Remi in 2006 and his feet were horrible. I mean horrible! He had thrush in all four hooves and his heels were so contracted they almost touched. His walls were so crumbly that the hoof tissue clogged up the rasp when you filed it. Remi was lame, needless to say, and he walked with a toe first landing.
I tried for 2 years to keep him a barefoot horse. I used every boot out there and even did the hoof casts to protect his tender soles. All the boots rubbed him and he wore through the hoof casts in about 3 days. Another challenge for Remi was his small feet relative to his size. Remi is 15:3 and he wears the same boot size as my 14:3 hand mare. I would say he outweighs my mare by 300 pounds. That is a lot of weight on such a small surface area.
I worked with Remi's diet over the years and this greatly improved the quality of his hoof wall but he was still not fully sound without shoes. I finally broke down and shod him all around with shoes with fill in pad material. I kept Remi in these shoes for several years and eventually took off his back shoes and then stopped using the fill in pads on the front. Every time I saw the farrier I asked if she thought Remi could be a barefoot horse again and every time the answer was, not yet.
Well, yesterday Remi made the choice for himself. He stuck his foot in the fence for one time too many. Over the years I have struggled with Remi's tendency to paw into the fence. This fence pawing behavior seems to be common in Yang Ming horses. Remi came with a scar on his pastern from sticking his foot where it did not belong but alas he does not seem to be able to learn. I have cut him out of mesh fences, cattle panels and my round bale hay net so many times I can't even count. I cut him out of the fence 2 days ago and yesterday he was stuck again. He jerked his shoe off before I could get the bolt cutters and that was the last straw.
As I was pulling the remaining shoe I could not help but notice how healthy his hooves are now. His wall is at least a half inch thick and hard as a rock. His heels are still slightly contracted but he has a well developed frog now. His soles are thick and his angles are pretty good. Remi is sound and his canter is not nearly as rough as it used to be. His shoulders are still a bit tight but they move more laterally than they once did.
I think this time Remi may make it as a barefoot horse. His current diet is Thrive brand, low starch feed, chia seeds, blue green algae plus pre and probiotics, magnesium and grass hay. He gets a handful of alfalfa a day and some pasture if it rains. It took me a while to find what he needed as a Yang Ming but this program works for him. I still have his boots and will use them for riding. I think they will fit better now that his heels are more normal.
I am glad to have Remi back as a barefoot horse but I don't regret the time he spent in shoes. This time allowed his body to heal from the chronic foot soreness. His hoof walls had time to grow and he has built up amazing amounts of sole. My farrier has done an amazing job with him. I won't hesitate to go back to the shoes if I have to but first I will have to hot wire all the fences.
++++ Copyright | Getting On and Off the List ++++
Unless otherwise attributed, all material is written and edited by Madalyn Ward, DVM. Copyright (c) 2014 HolisticHorsekeeping.com and Madalyn Ward, DVM. All rights reserved.
If you like the material in this newsletter please let your friends know about it. You may reprint material in other electronic or print publications provided the above copyright notice and a link to http://www.holistichorsekeeping.com is included in the credits.
You can get off this list by going to http://www.holistichorsekeeping.com or by sending an email to info@holistichorsekeeping.com.
When you forward this material, please send the entire newsletter. Thanks!
Please also enjoy all of Dr. Ward's web resources:
http://www.holistichorsekeeping.com
http://www.horseharmony.com
http://www.horseharmonytest.com
http://blog.horseharmony.com
http://www.facebook.com/HorseHarmony
Twitter: madalynward