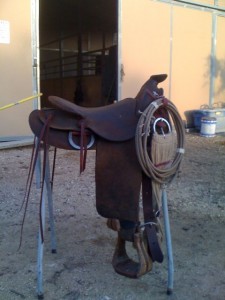 Some women have a weakness for new shoes but for me it is tack. I could spend all day in a tack shop and never get bored. Touching and smelling leather brings me into a state of euphoria and peace. A new bridle headstall is a treasure. Saddle pads and girths are nice but they don't give the same thrill as leather.
Don't get me wrong, I am not one of those people who has a tack room full of unused equipment. I buy things I can use and if I don't need them at the moment I loan them out. I have 3 saddles and a nice bit out on loan right now.
I like ropes, too. Lariats, lead ropes, rope reins, rope girths, and even plain nylon tie lines bring good feelings. I have been known to get off and pick up pieces of rope when I ride along the highway. It has to be good rope, not just cheap sizzle type stuff. Some of you know what I mean.
Older, broken in leather is always preferable to new leather. Good leather gets better with use. It gets softer and darker. It takes on character when it gets battle scars from doing its job. Tooling and other decoration is nice in moderation but please skip the bling and excess silver. I will take plain harness leather over exotic hides any day.
So now that you know this about me, I can share that I blew my budget and bought a used saddle over the weekend. I just sold a saddle and, well, I was feeling sort of sad. Anyway, my neighbor had a garage sale and a man brought in a trailer of used saddles. I had been looking for a lightweight roping saddle so I could drag some old cedar brush to burn.
I did not want to use my barrel saddle for this task but I also did not want something that weighed 50 pounds. The saddle I bought fit the bill. It is probably 30 years old and has the old style low cantle for calf roping. It is not nearly as heavy as a steer roping saddle but the horn looked plenty strong for what I want. The leather is still soft and has no cracks so someone has taken care of it.
I tried it on Remi and it seems to fit. I have not had a chance to ride it yet and may not get to until we get a break in the weather. Remi still has some issues with ropes so I will need to do a bit more groundwork before I ask him to drag anything. In the meantime I can always go out to the trailer and look at my new purchase.
So challenging as my tack fetish is, it could be worse. At least saddles don't eat. Madalyn