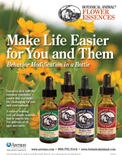 Flower and herbal essences are liquid preparations that are made by infusing fresh  flowers or herbs under very specific conditions to create a potentized essence. Distilled vinegar is used as a preservative. These essences are used to balance emotional and spiritual energy that can be the underlying cause of physical imbalances.
To get the best results from essences they should be used in a specific way. With the Botanical Animal essences you want to first determine if you are using an essence best suited for a deep seated emotion or a situational emotion. Deep seated essences address long held, or repressed emotions and situational essences address specific emotions that only surface under certain conditions. Some essences can deal with deep seated and situational emotions.
Essences for deep seated emotions include:
Angel of Mercy
Ego Builder
Life Changes
Re-Charge
Wellness/Recover Blend
At Your Service
Crossed Over
Sibling Rivalry
CrisEase
Situational essences include:
Clear Thinking
Devil Be Gone
Easy Does It
Ego Builder
Independence
in Training Blend
Mellow Out Blend
Obsess Less
Re-Charge
Safe Journey
Wellness/Recovery Blend
Crossed Over
In The Kennel
Panic Attack
Unseen Visitors
CrisEase
Essences are best absorbed through the mucous membranes in the mouth. The best ways to administer them is directly in the mouth, in the drinking water or on hard treats such as carrots or apples. You can also put the remedies on the palms of your hands and rub them around your horse's lips. Essences may not contact the mucous membranes if put in feed so this is not a good option.
The essences will start to act within a few minutes to 1 hour after being administered and last for 4 to 6 hours. If you are looked for a stronger action then it is better to give the essence more often than to give a higher dose. Situational remedies are best given 30 minutes to 1 hour before needed and deep acting essences can be given directly in the mouth or in the drinking water. Essences won't act on other animals drinking the water. Add new essence when the water is changed or add daily to larger toughs.
Up to 3 essences can be given to an animal in a 24 hour period. They can be given together or deep acting essences in the water and situational essences directly in the mouth before they are needed.
Common combinations include:
Ego Builder, Mellow Out and Clear Thinking
CrisEase, In Training
Devil Be Gone and Angel Of Mercy
Essences will often clear emotions in layers. Give an essence or combination of essences 4 to 6 weeks to act but be prepared to shift essences if emotions shift. Madalyn
If you liked this post, please leave a comment or get more great holistic horse info at Holistic Horsekeeping, Horse Harmony Test, Horse Harmony, and on Twitter.