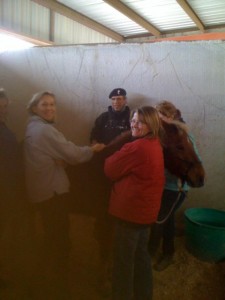 Punkin, my Jue Yin (Wood/Fire), horse temperament was the star at my osteopathy class. Osteopathy is a system of medicine that focuses on raising the vitality of the horse by restoring his mobility. In the mind of an osteopath, any area where 2 or more structures come together is a joint and every joint must be mobile.
Janek Vluggen of the Vluggen institute is my mentor and instructor for osteopathy. I am repeating the certification course I finished 4 years ago. The original course was 4 modules of 4 days each but the course has now expanded to 8 modules of 4 days each. I am so excited with all the new information and the review and additional depth of learning of previous teaching.
Since the course is local I take my horses for the course participants to practice on. This time, Remi and Punkin drew the short straw and had to come. The Jue Yin horse temperament loves new adventures but is not always the most patient type. Punkin behaved admirably as we palpated his ears, manipulated his neck, picked up his legs and pulled on his tail to check for immobility.
As it turns out, Punkin did have a rotated sacrum which we were able to correct for him. This explains why he has so much trouble stepping under with his right hind leg. Punkin also has a rotation in is poll area so it is a real statement of his good attitude that he has progressed so well in his training. I make an effort to keep his training sessions fun and regularly introduce new adventures.
The other vets in the osteopathy course went out of their way to pet and love on Punkin. He appreciated this and I think overall he had a good time. Madalyn
If you liked this post, please leave a comment or get more great holistic horse info at Holistic Horsekeeping, Horse Harmony Test, Horse Harmony, and on Twitter.
Five-Element Temperament Type Resources
Want to know more about the Five-Element temperament typing system? Want to type you or your horse at no cost? Check out these resources below:
Horse Personality Type Information
Horse Personality Type Educational Audios
Horse Personality Case Studies
We also have some Five Element Audios of actual case histories and discussion of each horse temperament type. Real life cases are a great way to gain understanding of Five Element typing.