October 2015
Protecting your horses from dogs and other predators
Holistic Horsekeeping
How to have a healthy happy horse.
Volume 20, Number 9
=*=*=*=*=*=*=*=*=*=*=*=*=*=*=*=*
In This Issue:
1. Protecting your horses from dogs and other predators
2. Don't Miss Your Chance!
=*=*=*=*=*=*=*=*=*=*=*=*=*=*=*=*
1. Protecting your horses from dogs and other predators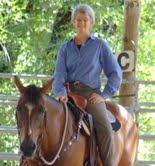 If you have horses, you know that dogs can be a huge help around the barn. They help control pests and act as a deterrent to predators. They are great companions and make barn chores more enjoyable. However, if a dog has not been trained to respect horses he can become a danger to them. Dogs that are allowed to roam, especially in a pack, can chase and even kill a horse. Foals and ponies are particularly susceptible to dog attack. Wild animals, such as wolves, bears and big cats will rarely attack horses but they can. It is still wise to take a few steps in protecting your horses from dogs and other predators.
Your farm dog can be a great help in scaring off predators, especially at night. Even if your dog is kept in a kennel or pen his barking will be a deterrent. The dog won't be much help if he is curled up in your house by the fire. If your dog stays in at night you may want some other alarm animals such as geese or ducks.
Human activity can be enough to discourage wild animals from venturing close to your horses. Make sure your horses stay up close to your house as much as possible if wild animals are a problem. Outside vapor lights or motion sensor lights around the barn can keep some predators from coming close. Wild dogs will also avoid people but packed up domestic dogs have no fear. Make sure all your neighbors understand that roaming dogs are not acceptable.
Guard animals, such as donkeys, mules and llamas, can chase and kill dogs, wolves or coyotes. Mules have been known to attack mountain lions but are not likely to be able to fend off a bear.
By far your best plan for protecting your horses from dogs and predators is a good fence. Rail and board fences do not keep out rogue dogs or wild animals. You need a tall, wire mesh fence to keep unwanted animals out of your pasture. You need to close off any low places where an animal could squeeze under the fence. Gates should also be mesh rather than simple bars. Fences must be inspected regularly to make sure nothing has torn a hole or pushed the fence down.
If your pasture is too big to fence with wire mesh, then consider keeping your horses in a barn or small, secure pen at night. Keeping you horses up may require a little extra cleaning but the peace of mind is worth it.
Protecting your horses from predators
A good watch dog or other alarm animal
Human activity/lights
Guard animals such as donkeys
Tall, strong mesh fencing
A safe barn or pen
In addition to protecting your horses from dogs or other predators you want to make sure you are safe. Keep a loaded gun in a secure location and know how to use it. Carry a loud horn with you to scare off any wild animal you may encounter. With a few precautions we can keep humans, horses and wildlife co existing in balance and harmony.
2. Don't Miss Your Chance!
Don't miss out on this unique opportunity to study holistic horse care with Madalyn Ward, DVM. This mentoring program offers you one-on-one time with Dr. Ward to study a variety of holistic topics including:
•    Homeopathy Mentoring Course – Beyond Arnica
•    Horse Nutrition Mentoring Course – Using foods to heal
•    Horse Temperament Mentoring Course – Know your horse
Since this is an individualized program, you can pick one, two or all three topics to study. If you are serious about using holistic horse care with your own horses or your clients' horses, this is your chance to learn from a leading expert in the field over a six month period. For more information on this unique educational opportunity, see the Mentoring Program on our website.
And don't forget the Tallgrass online course, ebooks, books, and audios that can help you continue your holistic horse care education. Or if you just need some help typing your horse's temperament, we have affordable help from certified typologists.
++++ Copyright | Getting On and Off the List ++++
Unless otherwise attributed, all material is written and edited by Madalyn Ward, DVM. Copyright (c) 2015 HolisticHorsekeeping.com and Madalyn Ward, DVM. All rights reserved.
If you like the material in this newsletter please let your friends know about it. You may reprint material in other electronic or print publications provided the above copyright notice and a link to http://www.holistichorsekeeping.com is included in the credits.
You can get off this list by sending an email to info@holistichorsekeeping.com.
When you forward this material, please send the entire newsletter. Thanks!
Please also enjoy all of Dr. Ward's web resources:
http://www.holistichorsekeeping.com
http://www.horseharmony.com
http://blog.horseharmony.com
https://www.facebook.com/HolisticHorsekeeping
https://www.facebook.com/HorseHarmony
Twitter: madalynward