May 2018
Cerise Passes the Torch
Holistic Horsekeeping
How to have a healthy happy horse.
Volume 23, Number 5
=*=*=*=*=*=*=*=*=*=*=*=*=*=*=*=*
In This Issue:
1. Cerise Passes the Torch
2. Getting Your Horse Questions Answered
=*=*=*=*=*=*=*=*=*=*=*=*=*=*=*=*
1. Cerise Passes the Torch
I plan to put my beautiful Cerise down next Wednesday. In the past 6 months Cerise has rapidly declined in her health. She has lost a lot of weight despite taking in more calories. Lately there have been more days when she has looked completely exhausted. We have had to help her get back to her feet on several occasions. She is still eating and seems happy but I can't take the chance of her getting down overnight and not being able to get up.
Last month we brought in a new mare, Martini. Cerise welcomed Martini in and they have been great buddies. Martini has been a total gem with Cerise. Tanq, our gelding, has been wonderful as well. Whenever I see Cerise laying down I always see Tanq standing guard over her. In the past few days Cerise has been separating herself from Tanq and Martini as if to build the bond between the two of them. I have seen this before when animals are ready to let go.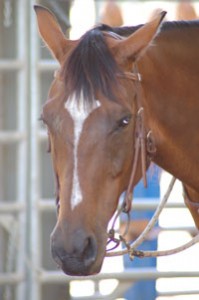 I can't say enough about the special horse Cerise has been for me. Cerise came to me after a very tough go with a Wood mule. Cerise could not have been more different than Jake. She has her opinions and a very strong personality but whatever I have needed her to do she has been there for me. Cerise always wanted to please so if she was having trouble with something I knew either she physically could not do it or she did not understand. Knowing this about her helped me gain in my horsemanship skills because she was such an honest teacher.
Cerise has given me another gift in the last few months that we have just been hanging out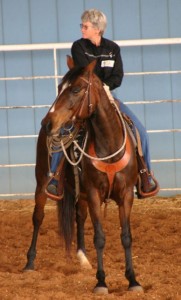 together. It is the gift of peace. She has taught me that time with your horse is more important than getting through all your e-mails or staying on top of your Facebook account. As a matter of fact, I am making Cerise a promise to limit my computer time to 5 hours a week. There are things I have to do with the computer but it is also a huge consumer of my time. I just can't read every interesting article or answer everyone's questions. I wish I could but it is just not possible and still have the time for my family and animals. By limiting myself I can now focus on only what is essential use.
My website is a huge library of information. There are over 20 years of accumulated blog posts and resource materials and I hope people will access these and benefit from them. I also offer consults and mentoring to help those who want help for their horses or advanced learning for themselves. So, if you don't hear right back from me on an e-mail or text, please don't take it personally. Just know I am at the barn keeping my promise to Cerise.
2. Getting Your Horse Questions Answered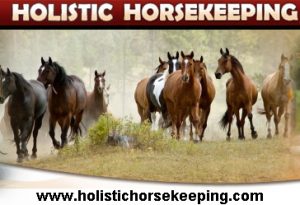 The Holistic Horsekeeping website is indeed a wealth of holistic horse care information. If you have questions about issues with your horse, you can search through our extensive article library and blog articles for answers. You'll also find other useful information such as suggested reading and holistic vets in other areas on our resource page. If you are looking for just more general information on holistic care or specifics on subjects such as hoofcare, temperament typing, vaccinations or nutrition, take a look at our many affordable ebooks, books, audios, DVDs and Kindle books.
We also have a very extensive listing of products that have proven themselves to be effective. By checking out the various product sections you may recognize the best choice for your horse.
Horse Health Maintanence
Digestive Products
Hoof, Laminitis & Cushing's Products 
Products for Joint, Muscle, and Tendon Support
Blue green algae products
Horse Temperament Balancing Formulas
If you are looking for a specific product that you know the name of, you can find an alphabetical listing of all the products we carry at http://www.holistichorsekeeping.com/product-list.html. Or if you can't remember the name, but know the brand name try using the guide at http://www.holistichorsekeeping.com/brands.html
If you are not able to get the information you need from all these sources then a consult can be done to get individualized help for your horse.
Should you decide you want to deepen your understanding of nutrition or homeopathy, Madalyn offers mentoring for select individuals. You can find information on the Mentoring Program at http://www.holistichorsekeeping.com/mentoring.html.
Temperament typing is another area to gain a deeper understanding of your horse and what he needs from you. You will find lots of information about the temperament types including an online course available and help from trained temperament typists at http://horsetemperament.com.
With all these resources available to you 24/7, you will probably find the answer to your horse questions. If you still need more insight, message us on our Holistic Horsekeeping Facebook page or Horse Harmony Facebook page and we will post your question to the Facebook forum to ask others for input.
And finally, we offer a free weekly newsletter you can sign up for to keep up with the latest holistic horse care topics, learn more about your own health and see answers to clients that may be similar to your concerns with your horse. You can sign up for the free newsletter at http://blog.horseharmony.com/.
++++ Copyright | Getting On and Off the List ++++
Unless otherwise attributed, all material is written and edited by Madalyn Ward, DVM. Copyright (c) 2018 HolisticHorsekeeping.com and Madalyn Ward, DVM. All rights reserved.
If you like the material in this newsletter please let your friends know about it. You may reprint material in other electronic or print publications provided the above copyright notice and a link to http://www.holistichorsekeeping.com is included in the credits.
You can get off this list by sending an email to info@holistichorsekeeping.com.
When you forward this material, please send the entire newsletter. Thanks!
Please also enjoy all of Dr. Ward's web resources:
http://www.holistichorsekeeping.com
http://blog.horseharmony.com
https://www.facebook.com/HolisticHorsekeeping
https://www.facebook.com/HorseHarmony
Twitter: madalynward