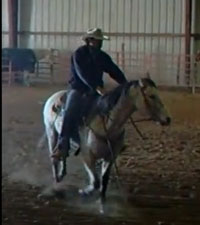 Madalyn Ward, DVM shares her answers to specific holistic horse health care questions from clients.
Q – "When do you recommend Chia, BOSS and/or Rice bran as part of the feeding protocol? Is it by type or symptoms or just good nutrition?"
A – "I recommend the chia for horses that don't need weight gain but need omega 3 fatty acids for anti-inflammatory support. IR (Insulin Resistant) horses do really well on chia seeds. Also Earth, Metal and Earth/Metal or Metal Earth combos do well with chia. I use BOSS for horses that need weight gain but are not too hyper. BOSS is very high energy and not good for horses that show any kind of inflammation because they have a low amount of omega 3 and more omega 6 fatty acids. Most types do well on BOSS. Rice bran is good for helping any horse gain weight. It is especially good for older horses. Be careful with Earth and Earth combos because the high fat content may contribute to dampness symptoms and excessive weight gain."
Q – "When do you recommend the New Earth WILD products – both individually and separate, Essentials Blend or the Essentials packets?"
A – "Essentials Blend is a great general support for immunity and gut health for healthy horses. It is super whole food nutrition. Essentials packets are more targeted for gut health and have a larger amount of algae to help build up sick or injured horses. Show, breeding or hard working horses may need Essentials packets. For the WILD products, the Earth product is good for anti-inflammatory support especially with Wood and Earth horses and combos of these. The Forest product is for liver and immune support and may help in balancing hormones and weight control. It is especially useful for Wood, Fire, Metal horse types and combos of these. The Water product is for extra minerals and calming and works especially well with Water, Fire and combo horse types of these. For a combination of these types it works well for general organ support."
If you enjoyed this post or found it helpful, let me know by leaving a comment below. You can also find me on Facebook where I always appreciate a LIKE. To order any of the products mentioned in this post or other  products for you or your horses, please visit my online store.