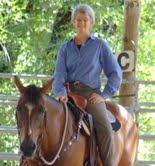 Madalyn Ward, DVM shares her answers to specific holistic horse care questions from clients. To see more questions and answers on real holistic horse care situations check out our Holistic Horsekeeping and Horse Harmony Facebook pages.

Q – I had the vet out for my mare because her flanks have been severely drawn up and her top line is even more pronounced. It's beginning to look a little shelf like and then drops down normally. Her coat is shiny and healthy looking and her ribs aren't showing. I started giving her aloe vera juice in the mornings and just started her on the turmeric paste. She is still eating with an appetite. Her butt looks old too, like not filled out anymore. The vet felt she may have EPM based on the muscle wasting and he could easily get her off balance pulling her tail and the fact that she's so drawn up. She also will just stand in the pasture sometimes looking really dejected, hanging her head. The vet explained that there is inflammation and it could be like she has a bad headache. I went ahead and had him draw blood for regular labs and also send off to lab to test for EPM. I realize it could just indicate past exposure, but it could be activated with the stress of moving and new horses and all that right? Anyway, I can't afford standard treatment and he said there was another promising treatment that was not FDA approved yet that was much cheaper. Sounds like you have some other treatment options. Would you mind giving me your thoughts?
A – I use a natural product called Karbo Combo to treat suspected cases of EPM that have not advanced too much.I hope this will help your mare and it is good for her even if she does not have EPM. My other thought about the loss of top line could be Cushing's. You would also need a blood test to diagnose this condition that is very common in older horses and easily treated with diet and medication.

Q – Madalyn, what is your opinion about vaccinating older horses. I know we talked about only giving rabies every other year (or 3 years?). I know you recommend running titers and I'm sure that's best, but I have several older, retired horses that the owners wouldn't do that. SO, I've been having them vaccinated annually, but not sure that's best for them either. That's what the owners are used to and expect, however I'm not sure that's best for the old guys…..BUT I don't want to take chances with other people's horses either. Help! thanks!
A – I back off on vaccines for older horses and only vaccinate if there is an increased threat. The immune systems of the older horses may not be able to respond to the vaccines and the toxins in the vaccines are much harder on the older horse. Older horses with metabolic issues, such as Cushing's, can have major bad reactions to vaccines. Titers are the best way to go but you have to honor your horse owners. If their belief is in the vaccines then you can try to educate them but make sure the choice is theirs. My Vaccination ebook could help give them a different perspective.
If you enjoyed this post or found it helpful, let me know by leaving a comment below. You can also find me on Facebook where I always appreciate a LIKE. To order any of the products mentioned in this post or other  products for you or your horses, please visit my online store.