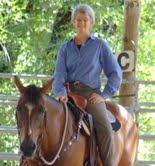 Madalyn Ward, DVM shares her answers to specific holistic horse care questions from clients. To see more questions and answers on real holistic horse care situations check out the Horse Health Hotline postings.
Q – I have a question regarding a puncture wound that my 10 year old gelding is still recovering from. He got it on the upper part of his front leg, above the knee. It wasn't very deep or wide (less than an inch deep and wide). I did my normal routine with puncture wounds–flushed it with a 50/50 betadine and saline solution (although the draw solution I have read about here sounds much better). Then I put an herbal poultice on it made by Silver Lining herbs and would wrap it for 12 hours and then left it unwrapped for 12 hours with the poultice on it each time. There was swelling or a pouch below the site, but I was able to keep the wound open and it eventually disappeared. My concern is that the puncture site itself is still not closed up entirely and the area around the wound still sticks out quite a bit. A friend of mine who really knows horses said that it probably was a staph infection and that I should have given my horse a round of antibiotics. He says that the site might eventually go down, but that he might always have a knot in this area. As I look back, I do remember there being a little bit of heat at the site during the first few days, but he wasn't getting pussy, so I didn't think I needed my vet to come out or that I needed to treat with antibiotics. Learning about a possible staph infection is new for me. It has now been about 3 weeks and I am wondering what else I might do to get this to close up or if it will eventually be reabsorbed. Are there any homeopathic remedies that will help? Would it be too late for antibiotics now? I am keeping a salve on it and still cleaning the wound but with just saline solution.
A – I do not usually give antibiotics for wounds such as this so you did nothing wrong. Is your horse lame or is there currently any drainage from the wound? Is the wound hot? If not I would use a product such as draw or Formula 11 on and around the wound. If you feel there could be some infection or debris still deep in the wound then you can treat it with icthammol ointment which has a strong drawing effect to pull out splinters. I would only be concerned if you have lameness or drainage that continues over another week. I would also support your horse's overall healing abilities with a supplement such as blue green algae.
Q – Thank you so much for the reply….I will order that draw solution and put this on it or the Formula 11. He is not lame on it at all and there is no heat, so I am feeling better about how I treated it now. I will keep a container of draw handy for all my future wounds like this as well. I will also order the algae as this sounds like a great product!
If you enjoyed this post or found it helpful, let me know by leaving a comment below. You can also find me on Facebook where I always appreciate a LIKE. To order any of the products mentioned in this post or other  products for you or your horses, please visit my online store.