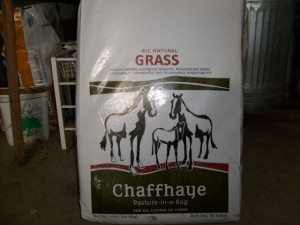 The spring grass is coming up and it is so tempting to let your laminitis horses out on pasture but you must resist. Sugar is high and magnesium is low in spring grass and this combination is one of the main triggers for laminitis horses.
The really sad thing is that spring grass is also high in many wonderful nutrients such as omega 3 fatty acids and chlorophyl. These nutrients are what give horses eating spring grass the bloom and vigor to take them through the summer. Laminitis horses need these nutrients but they must get them from other sources than spring grass.
Chaffhaye is a bagged, fermented, chopped hay that has the benefits of spring grass but almost no sugar. The sugar is used up during the fermentation process so this hay is safe for laminitis horses. Instead of the sweet taste of spring grass the chaffhaye has a sour flavor which takes some time for laminitis horses to get used to.

The sour flavor is Yin and cooling which is helpful for many laminitis horses. This flavor also helps break down fats and proteins which may have accumulated in the tissues. This action helps relieve pressure on the liver.
The sour flavor of the chaffhaye is not found in much of the normal diet of laminitis horses. In the wild, horses would get this flavor from browsing herbs and berries. I feel laminitis horses can eat up to 80% of their diet as grass chaffhaye. Laminitis horses with symptoms of dampness such as stocking up should not have much of the sour flavor so chaffhaye should be fed to them sparingly.
Chaffhaye is not certified organic but it is grown without any chemicals. Macro minerals, plus zinc and copper levels are provided for each bag and the sugars consistently test low which makes chaffhaye ideal for laminitis horses. It does have special handling needs as exposure to air will bring on rapid spoilage.
Once opened, the bag of chaffhaye must be consumed within a week or less with warm, humid conditions. Some deal with this by putting part of the bag in the refrigerator until it is needed. Also, small tears in a bag will cause spoilage so handling must be careful.
Other sources of omega 3 fatty acids and/or chlorophyll include:
Blue green algae
Chia, hemp or flax seeds
Alfalfa hay
Having other options to give your laminitis horses the benefits of green grass should make it easier to resist turning them out and taking a chance on relapse. Madalyn
For extensive information on care and management of laminitis horses, cushings and insulin resistance check out my laminitis ebook