My Garden Tower has been so fabulous.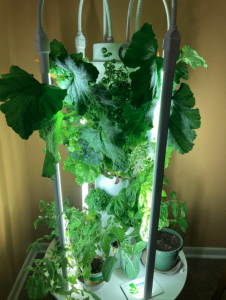 I haven't always been so interested in whole green foods. I had very little nutrition study in vet school and early in my career I did not make the connection between green foods and health. My diet during this time consisted of a breakfast taco and Coke for breakfast, Coke for lunch and maybe a burger at some point during the day. I had horrible allergies and was down with bronchitis at least twice a year.
My energy was terrible, but I thought it was just the long hours I worked. One day a client noticed my hands shaking while I was working on her dog. She asked me about how much caffeine I used, and I told her as much as I needed to function. She suggested I get off caffeine and, surprise, my hands quit shaking and I slept better at night.
About that same time my good friend, Leta Worthington, started talking to me about Blue green algae. I blew her off, but she suggested I try some on my most difficult case in my clinic. I ended up starting a dog with horrible skin infections on the algae and the dog did fabulous. The owner came back to the clinic wanting more of the magic green powder.
Now that I had seen the results, I started taking high amounts of probiotics and algae myself. Within 6 months my allergies improved significantly, and I was not sick during that time. I have been taking Blue Green algae, enzymes, and probiotics daily now for 30 years. No allergies!
Once I saw the results from a few small capsules of algae I began to improve my overall diet to include many more fruits and vegetables. The Garden Tower allows me to have fresh, organic vegetables and herbs year-round. I am amazed at how much flavor there is in the produce with only the mineral enriched water as nutrition.
I have only had one issue with the tower. There has been a little bit of powdery mildew. After doing some research about the Garden Tower, it was suggested I spray the plants with milk twice a week and that has helped a lot.
The Garden Tower I have is from Juice Plus. Juice Plus also makes fruit and vegetable capsules for people who don't like to cook. I got my Garden Tower from my friend here in New Mexico.
Please email me your contact information at info@holistichorsekeeping.com and I will ask her to contact you.