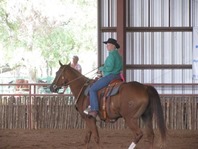 The first time I stepped out of my trailer holding a rope Remi's eyes got wide and he pulled back on his lead rope. I had forgotten that he had once been a roping horse and I guess it was not a good time in his life. As a Yang Ming (Metal/Earth) horse temperament, Remi does not quickly forget bad experiences. The Yang Ming horse can be a bit slow to learn but they remember well once they have learned and Remi learned that roping was bad for him.
I took my time with Remi and started out just carrying my rope around when I led him. Eventually he got OK with that. Then I started petting him with the rope and rubbing him all over. He was very worried at first but eventually settled. I did not try and rush him. Sometimes I would go weeks and not even get my rope out. We had plenty of other things to work on so he could build his trust in me.
I started swinging my rope around Remi from the ground and then I tied it to the saddle and rode with it but never took it down. After this was no concern to Remi I started making a loop from the saddle and swinging it slowly around. One day I just took my rope down, built a loop and tossed it at the roping dummy. Remi did not care at all. Soon I could carry my rope and make a loop while Remi trotted along. Then I could swing the rope as he trotted and then I could throw the loop.
All of this reintroduction to roping happened over several years but with the Yang Ming horse temperament it is critical to go slow and not miss any steps. Last weekend I was able to rope a steer off Remi and take a dally. This is the first time I have ever roped a live animal. Remi worked like charm and never even got tense. He loves cows. He likes moving them and now he can enjoy being roped off of.
I am having fun, too. I never thought I would want to rope but it is great fun. It takes lots of coordination to control your horse, make and loop, swing, catch and dally. I think it will make me a better rider. I am so pleased with Remi and he seems to feel pretty darn good about himself.  He has come a long way.
See the video of our roping session.

For more information about Five Element Horse Temperaments check out Horse Harmony.
For more information about Holistic Horse care check Holistic Horsekeeping.
Five-Element Temperament Type Resources –
Want to know more about the Five-Element temperament typing system? Want to type you or your horse at no cost? Check out these resources below:
Horse Personality Type Information
Horse Personality Type Educational Audios
Horse Personality Case Studies
We also have some Five Element Audios of actual case histories and discussion of each horse temperament type. Real life cases are a great way to gain understanding of Five Element typing.
If you enjoyed this post or found it helpful, let me know by leaving a comment below. You can also find me on Facebook where I always appreciate a LIKE. To order any of the products mentioned in this post or other  products for you or your horses, please visit my online store.