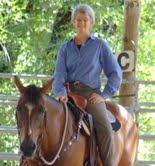 Madalyn Ward, DVM shares her answers to specific holistic horse care questions from clients. To see more questions and answers on real holistic horse care situations check out the Horse Health Hotline postings.
Q – I have just acquired a beautiful bay Arabian gelding, that I consider in rescue condition, after losing my loving companion of 20+ years (who was 31).
He was beaten with a trace chain and starved, and the people we bought him from had him in a bad situation turned out with a stallion, mares and other geldings, so he was on the bottom of the totem pole. He had bite marks where probably the gelding had gotten after him.
The local vet has come out and he had his shots and we have dewormed him once with Equimax. He expelled some bot larvae within a week. When we took the fecal sample it showed a low egg count, so I am not as concerned about that as I am about his overall well-being.
I have him on the blue green algae – so he could be a poster child for what that does. I also have been giving him canola oil in his feed to add calories to his diet.
I want to know what you would recommend to add as a supplement to help bring him back to good health. I am thinking of starting him on some vitamin C.
After four weeks, he is looking better, but still needs to add some weight and we are working on all training from square one.
A – You did not say how much weight your horse needed to gain and what his current diet is. Blue green algae is one of the best supplements you can give a horse that has been malnourished because it takes so little energy to assimilate it. Canola oil, on the other hand, and other fats can be hard to digest for a horse that has been starved.
Good quality hay is the best feed to help a starved horse gradually put on weight and avoid colic. You can then add an easily digested feed such as Thrive. A flake a day of alfalfa hay can be gradually introduced. Once a horse has gained some weight and appears stable you can come in with a quality fat such as chia seeds. If there is no problem with inflammation you can also use a rice bran based fat supplement.
Q – How much raw papaya do you feed a 1000 lb. horse a day?
A – It does not take much papaya to make a difference. Start at 1 oz. twice a day.
If you enjoyed this post or found it helpful, let me know by leaving a comment below. You can also find me on Facebook where I always appreciate a LIKE. To order any of the products mentioned in this post or other  products for you or your horses, please visit my online store.