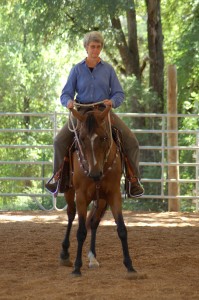 I have known for many years that horsemanship is an important part of any holistic horse health program. I started my journey of understanding horsemanship about 25 years ago when I was introduced to Linda Tellington Jones. Following LTJ came my good friend Linda Hoover who introduced me to horsemanship icons such as Ray Hunt, Buck Brannaman and Tom Curtain.
All learning curves involve a process and some pain as one realizes how much there is to learn. I existed for many years with my horsemanship in a state of blissful, unconscious, incompetence. In other words, I thought I knew a lot and expected my horses to do what I wanted even though I offered them little support. I got bucked off or run away with a few times but I looked at these episodes as anomalies in my otherwise stellar riding accomplishments.
As I spent more time observing great horsemen and women, doubt began to creep into my being and I entered into another learning phase, conscious incompetence. I began to realize just how much my horses and mules had been filling in for my lack of skills. This was an extremely uncomfortable state and I remained there for almost 10 years. It seemed the skills possessed by my mentors were outside my grasp and I had so many bad habits to unlearn. There were times when I thought I might not even want to ride at all now that I knew how many things I was doing wrong.
I understood, however, how important good horsemanship was to any holistic horse health program so I persisted in spite of my lack of confidence. This past spring has finally brought me some breakthroughs. I have audited several clinics and taken a few private lesson with Linda Hoover. There are hints that I am moving into a new phase, conscious competence. In this phase I can recognize a problem with a horse and actually offer him support. I can help him find his way out of a resistant brace and into softness. As long as I pay very close attention, I can anticipate a problem and head it off before a horse wreck happens.
The last learning phase is the one I am seeking, unconscious competence. This is the phase the great horsemen and women have reached. They seem to instinctively know what the horse is thinking and what he needs at any moment. Their bodies simply do the right thing, at the right time, with just the right energy. Horses love to be in their presence and draw comfort from their leadership. My horses have been very patient teachers(well, with the exception of Jake) and I appreciate them so much. Learning good horsemanship is not always fun but your horses will benefit more than you can imagine. Madalyn
If you liked this post, please leave a comment or get more great holistic horse info at Holistic Horsekeeping, Horse Harmony Test, Horse Harmony, and on Twitter.