Holistic Horsekeeping
How to have a healthy happy horse
=*=*=*=*=*=*=*=*=*=*=*=*=*=*=*=*
In This Issue:
1. The Tale of 2 Water Horses
2. Online Class For Horse Temperament Typing
=*=*=*=*=*=*=*=*=*=*=*=*=*=*=*=*
1. The Tale of 2 Water Horses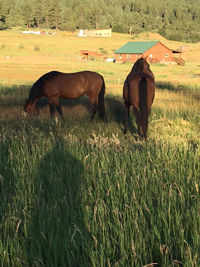 Water Horse# 1
Water horse number 1 was born on a small Arabian breeding farm. He was kept in a 2 acre paddock with his mother and 2 other mares and foals. Life was fun and safe. He was handled regularly by his owner and he learned early in life to wear a halter and yield to the halter rope. At first the lead rope was scary because he could not run away but his owner started him first in a 12 by 12 stall and did not hold tight on the rope. She would gently draw on the lead and then release as Water horse number 1 gave his head.
Another scary thing for Water horse number 1 was his first hoof trimming. Having someone hold up his leg was terrifying but luckily the trimmer understood his fear and only held the foot for a short time before putting it down. Again learning to pick up his feet in a stall made him feel more safe. Having his owner hold him also gave him comfort. It took several sessions but eventually Water horse number 1 gained confidence and relaxed during his trims.
As a 3 year old, training was started with more scary things like saddles and bridles but Water horse number 1 had learned he would not be hurt so he accepted the new challenges. He found that his owner was unconcerned and this helped him trust the process. He had learned to trust her. Having his owner ride him was really fun. He loved to move and go out on trails. He was not afraid of things anymore and he loved to go.
After a few years of riding on local trails he and his owner went to their first endurance ride. He was in heaven. Horse number 1 was fit and sound. His diet of alfalfa and grass hay, whole grain, with a probiotic/algae blend gave him the energy he needed. For the event he also got the Water balancing formula to support his kidneys and provide extra minerals. He wore boots to protect his hooves. His owner did everything to provide for him and he loved and trusted her. They were a great team.
Water Horse #2
Water horse number 2 was born on an Arabian breeding farm but he was one of 20 foals born on the farm. He did not get much interaction with people until it came time for his first hoof trimming. He was brought into the stall with his mother and then one of the grooms held him against the wall while the trimmer worked on his hooves. Water horse number 2 panicked. He fought for his life and ended up flipping over backwards several times. Another groom came in and held his tail over his back while the other groom held him against the wall until the trimmer finished his job.
The fear of people was set in Water horse number 2. He was hard to catch and once caught he tried to escape any chance he got. Everything frightened Water horse number 2 and no one wanted to be around him. As a 3 year old he was started in training. It took 3 grooms to get the saddle on him and he jerked free and ran wildly around the arena. He was put up for sale and bought as an endurance horse prospect by the owner of Water horse number 1.
It took 2 years of patient handling and training to gain the confidence of Water horse number 2. Osteopathic treatments were used to address injuries sustained from having his tail pulled over his back as a baby. Network chiropractic treatments helped him overcome his emotional stress. He was started on GastroplusPro to heal his digestive system so ulcer pain would not contribute to his concerns. HIs diet was changed to the same program as Water horse number 1. Water horse number 2 came to love and trust his new owner but he remained terrified of strangers. Over time he came to trust the hoof trimmer and accepted having his feet done.
Water horse number 2 did not reach his potential as an endurance horse. He was good to ride at home but he never was able to relax in strange places or be handled by people he did not know. He was lucky that his owner understood him and gave him a wonderful life even though he was not able to compete. He had a good life despite his rough start.
2. Online Class For Horse Temperament Typing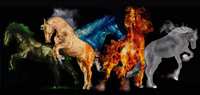 The self-paced online course is open to anyone interested in learning more about the Horse Temperament Types. It was created to share information about the eleven Horse Temperament Types as explained by Madalyn Ward, DVM. Dr. Ward has been a pioneering voice in the field of holistic horse care for over two decades and she breaks new ground with the Horse Temperament Typing system. Her cutting edge casework now extends to helping horse lovers find their perfect equine match or better understand their current equine partner. If you want to learn more about determining the temperament type of your horses, this course is the one for you. You can sign up and find more information at http://horsetemperament.com/class.html.
++++ Copyright | Getting On and Off the List ++++
Unless otherwise attributed, all material is written and edited by Madalyn Ward, DVM. Copyright (c) 2019 HolisticHorsekeeping.com and Madalyn Ward, DVM. All rights reserved.
If you like the material in this newsletter please let your friends know about it. You may reprint material in other electronic or print publications provided the above copyright notice and a link to http://www.holistichorsekeeping.com is included in the credits.
You can get off this list by sending an email to info@holistichorsekeeping.com.
When you forward this material, please send the entire newsletter. Thanks!
Please also enjoy all of Dr. Ward's web resources:
http://www.holistichorsekeeping.com
http://blog.horseharmony.com
https://www.facebook.com/HolisticHorsekeeping
https://www.facebook.com/HorseHarmony
Twitter: madalynward