October 2018
Holistic Horsekeeping
How to have a healthy happy horse.
Volume 23, Number 10
=*=*=*=*=*=*=*=*=*=*=*=*=*=*=*=*
In This Issue:
1. Treating Bursa Injuries
2. Getting Your Horse Questions Answered
=*=*=*=*=*=*=*=*=*=*=*=*=*=*=*=*
1. Treating Bursa Injuries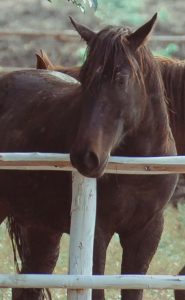 Bursas are pouches of fluid over joints and bony parts of the body. For instance, you have a bursa over the front of the knee, at the back of the elbow, at the point of the shoulder, at the top of the withers, and at the back of the hock. I may have missed a few but these are the main ones that have trouble.
When the horse lays down, rolls and gets up and down these bursas can get injuries if the surface is hard. These types of bursa injuries are generally not painful but when a bursa gets injured it fills with fluid and this stretches out the lining and once this lining is stretched it does not go back to normal.
In the horse, these bursa injuries have different lay names depending on where they occur. At the knee they are hygromas, at the elbow it is a shoe boil, at the shoulder the name is bicipital bursitis, at the withers if the bursa gets infected it is fistulous withers, and at the hock a capped hock.
It can be hard getting these swellings down and horses had to live with the blemish. A few years ago, I had a young warmblood get a large hygroma and his owner was not willing to let him have this blemish. She was prepared to try surgery even though she knew the chance of success was low. After trying many products we used Formula 11 and we were pleased that it brought the swelling completely down.
I have had some response to several homeopathic remedies, especially for shoe boils but this was the first time I had ever had good results with treating a hygroma. The hygroma on this yearling was over a year old so give the Formula 11 a try even on an old injury.
A different type of bursa injury is bicipital bursitis. Hard work and muscle strain can inflame the bicipital bursa and the biceps tendon causing tight shoulders. When this injury first occurs it can be painful. Early holistic treatment would be arnica homeopathic and a course of InjuryPro. I would also expect Formula 11 to be helpful for chronic bicipital bursitis. If a horse is very tight in the shoulder or shoulders it is worth applying it daily to the area of the bursa on the front of the shoulder joint and the area of the biceps tendon between the shoulder and where the muscle ties into the front leg.
2. Getting Your Horse Questions Answered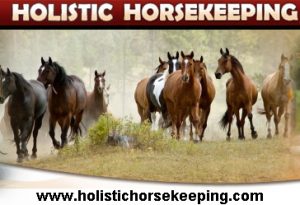 The Holistic Horsekeeping website is indeed a wealth of holistic horse care information. If you have questions about issues with your horse, you can search through our extensive article library and blog articles for answers. You'll also find other useful information such as suggested reading and holistic vets in other areas on our resource page. If you are looking for just more general information on holistic care or specifics on subjects such as hoofcare, temperament typing, vaccinations or nutrition, take a look at our many affordable ebooks, books, audios, DVDs and Kindle books.
We also have a very extensive listing of products that have proven themselves to be effective. By checking out the various product sections you may recognize the best choice for your horse.
Horse Health Maintanence
Digestive Products
Hoof, Laminitis & Cushing's Products 
Products for Joint, Muscle, and Tendon Support
Blue green algae products
Horse Temperament Balancing Formulas
If you are looking for a specific product that you know the name of, you can find an alphabetical listing of all the products we carry at http://www.holistichorsekeeping.com/product-list.html. Or if you can't remember the name, but know the brand name try using the guide at http://www.holistichorsekeeping.com/brands.html
If you are not able to get the information you need from all these sources then a consult can be done to get individualized help for your horse.
Should you decide you want to deepen your understanding of nutrition or homeopathy, Madalyn offers mentoring for select individuals. You can find information on the Mentoring Program at http://www.holistichorsekeeping.com/mentoring.html.
Temperament typing is another area to gain a deeper understanding of your horse and what he needs from you. You will find lots of information about the temperament types including an online course available and help from trained temperament typists at http://horsetemperament.com.
With all these resources available to you 24/7, you will probably find the answer to your horse questions. If you still need more insight, message us on our Holistic Horsekeeping Facebook page or Horse Harmony Facebook page and we will post your question to the Facebook forum to ask others for input.
And finally, we offer a free weekly newsletter you can sign up for to keep up with the latest holistic horse care topics, learn more about your own health and see answers to clients that may be similar to your concerns with your horse. You can sign up for the free newsletter at http://blog.horseharmony.com/.
++++ Copyright | Getting On and Off the List ++++
Unless otherwise attributed, all material is written and edited by Madalyn Ward, DVM. Copyright (c) 2018 HolisticHorsekeeping.com and Madalyn Ward, DVM. All rights reserved.
If you like the material in this newsletter please let your friends know about it. You may reprint material in other electronic or print publications provided the above copyright notice and a link to http://www.holistichorsekeeping.com is included in the credits.
You can get off this list by sending an email to info@holistichorsekeeping.com.
When you forward this material, please send the entire newsletter. Thanks!
Please also enjoy all of Dr. Ward's web resources:
http://www.holistichorsekeeping.com
http://blog.horseharmony.com
https://www.facebook.com/HolisticHorsekeeping
https://www.facebook.com/HorseHarmony
Twitter: madalynward