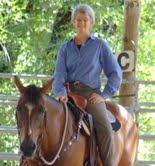 Madalyn Ward, DVM shares her answers to specific holistic horse care questions from clients. To see more questions and answers on real holistic horse care situations check out our Holistic Horsekeeping and Horse Harmony Facebook pages.
Q –  The rescue group I work with in Texas is starting to see many cases of river rot. Can you recommend products for treating this?
A – 4 pounds epson salts, 1 gallon water, 1 small jar of alum. Boil the water and add the epson salts. Stir until dissolved, then turn off heat and add the alum. Spray the legs or body lesions several times a day. Be sure and store the solution in food grade containers until it is used. Good luck with your rescues.
Q – I recently read your article on equine vaccines. I have to say, I was very happy to find an article that shares my views on vaccinations! I do have a question. I know it is recommended not to vaccinate horses with health concerns. I have one horse who is 13. He was recently diagnosed with PSSM type 2. He has been vaccinated up to this point with no problems (I've had him 8 years). However now with his recent diagnosis and problems, I am wondering if I should still vaccinate him at all?
A – This condition is genetic so your horse is not sick like for instance, a horse with laminitis. If he does fine with the vaccines then you can continue them.
(Dr. Ward also has more information on vaccines in her Vaccination ebook)
Q – I have a 13 year old Mustang /Paint cross horse that I adopted 6 years ago from a local rescue. Through x-rays we recently discovered he has a tiny bone spur on his left stifle and extensive arthritis. While he is not a performance horse, we do love him and hate him being in pain. I'm trying to find out an estimate on how much it would be to have it removed. He and my daughter had finally gotten to the point that they were starting to do dressage and some local shows. This has been devastating for her. I appreciate any information you can provide. If you have any products that you think might be able to help him, please let me know. Thank you so much for any advice.
A – I would consider a product called Ani-Motion. If you don't see a change within 60 days then you may need to consider surgery. I don't know what the cost would be. Another possible help would be the injection of platelet rich plasma into the joint to support stem cells in the area.
Response Q – I've been told because of the location in the joint of the stifle that surgery isn't an option. I'll take a look at your recommendation.
Response A – The PRP joint injections may be a good choice along with support with the Ani-Motion. Adequan might also help. Keep me posted.
If you enjoyed this post or found it helpful, let me know by leaving a comment below. You can also find me on Facebook where I always appreciate a LIKE. To order any of the products mentioned in this post or other  products for you or your horses, please visit my online store.