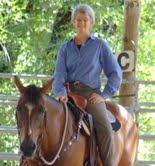 Madalyn Ward, DVM shares her answers to specific holistic horse care questions from clients. To see more questions and answers on real holistic horse care situations check out the Horse Health Hotline postings. http://www.holistichorsekeeping.com/bb/
Q – I have a Tai Yang appaloosa, and he's been coughing for about a month now, ever since we hit a dry spell for the first time this year in Houston – following all the high levels of rain we've gotten this year. He's turned out during most daylight hours and turned in around7:00 pm. He seems fine in his stall, but almost instantly when we start working in the (dusty) arena, he starts coughing, a lot. It'll eventually subside for the most part, with a few coughs a little while later. When we leave the arena and ride the trails around the pastures, there's very little coughing in comparison.  This usually happens to him for about a week every year, but he tends to get used to it, and it goes away.  This year is more severe. After reading through your materials online, I was going to give him some of the Blue Green Algae capsules and DynaPro that I have on hand.  I was going to purchase some Bleeders Blend from your store and try that as well.  Before I make the investment, I wanted to run it by you.  Also, what is the recommended dosage for this therapy? I am also planning to get him adjusted by a chiropractor and see if that alleviates any pressure he may be feeling.
A – The Bleeder's Blend is an excellent product but there is another one that may be a better fit for your horse. It is called BreatheWise. This product is a nasal spray gel that traps dust, pollen and mold particles in the upper airway so they can be removed easily. You spray it in the horse's nose shortly before he will be exposed to substances that cause issues. Horses tolerate the spray well and you will see lots of discharge from the nose of trapped particles. You could still use the Bleeders Blend if you think your horse has any lung damage. Use the suggested amount on the label. The algae and probiotics are always good to support the immune system and other healing.
(Later follow-up – "Dr. Ward, Breathe Wise is working. No coughing in the arena anymore.  He doesn't care for me sticking things up his nose, but I think he's finally getting used to it.)
Q – I went to an event the weekend before last and by the following Tuesday my horse had a runny nose that seemed to be a little thick, with milky colored mucous as well. I had a big event coming up that weekend so I called and picked up some SMZs to start him on. He had no fever and the mucous was mostly clear by the weekend. He had to be stalled for three days (I don't usually stall him) and he developed a slight cough. He runs barrels and competed Fri, Sat, and Sun. He placed well all three days. Monday morning I had him scoped and the vet noticed some scar tissue (webbing) on the tissue just before the pharynx. There were also two very small light yellow looking growths of some sort, one on each side of the larynx. (They actually looked like pus pockets to me, much like the ones that pop up on tonsils when you have a sore throat). Vet said possible pythium fungus, and has him on a vaccine series for that. I'm just not sure I'm buying that diagnosis. It could just be a virus he caught when we were at a previous show as he was around a horse who had been sick two weeks prior to that and it seems like every time he gets around this horse, he gets sick. It happened in December also. The same horse got sick and 3 days later, mine had it. He was super sick with 105 fever and cough. Stayed at vet for a week on IV antibiotics and steroids too, I'm sure. It took him 6 weeks to really get over that. I got his mother off the track and she was a terrible bleeder, and so I am a little paranoid when it comes to respiratory issues.
He is a 4 yr old gelding, probably an earth horse, has been on Adequan since the age of 3, mainly pasture, never been vaccinated for anything but rabies, once, as a yearling. I did give him the vaccine for the pythium 2 days ago. He gets one pound crimped oats with probios, 1/2 cup ground flax seed, 1/3 cup canola oil once daily – and about 4 pounds soaked alfalfa cubes once daily. He has never been shod and he is not a horse that ever stresses, not even during work. He will walk quietly up the alley, make a run and walk quietly out. I use a magnetic blanket on him fairly often and he loves a good massage.
He is still on the SMZs for another 5 days. The cough is not severe and there is still no fever. I suppose that my concern is that this horse was NEVER sick prior to December. And now he has the same type cough, minus the thick yellow mucous and fever. It just seems like he shouldn't be sick again, just four months later. Am I just being paranoid or is this a valid concern?
A – I can see your concern. You have a wonderful horse and you ride him very well. I am amazed he is so quiet and consistent as 4 year old. I suspect he is still building his immune system and his respiratory infections are part of this process. If we focus on helping him build his immune system he should be more and more resistant to the bugs he will meet with when he competes.
I tend to agree that he is an Earth horse because he is so quiet. Earth horses tend to have trouble with dampness in their systems and that could be why he is getting the mucous discharge. With some horses that have weak lungs I give herbs to lubricate the lungs but in this case I would do the opposite and focus on removing excess moisture from his system. I love the blue green algae for this. You can check it out here.
The straight algae at the rate of 2 tsps or 8 tablets a day. You will want to cut back a bit on the fat. I would leave the flax seeds and stop the canola. You don't mention any grass hay but extra hay or cubes can be given on days you don't run to make up for the lost calories. You can also give extra oats on run days. You may also need a stronger probiotic since he has been on antibiotics. The same site that has the algae info also has several probiotics products that will build his healthy bacteria better than the Probios. You can also look at some acupressure points to dry dampness and support the immune system. SP 6 and 9, Bl 19 and LI 11. I would use this plan for 2 weeks and see if the cough improves.
If you enjoyed this post or found it helpful, let me know by leaving a comment below. You can also find me on Facebook where I always appreciate a LIKE. To order any of the products mentioned in this post or other  products for you or your horses, please visit my online store.