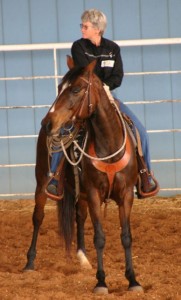 Madalyn Ward, DVM shares her answers to specific holistic horse care questions from clients. To see more questions and answers on real holistic horse care situations check out the Horse Health Hotline postings.
Q – We have a 16 yr old Oldenburg jumper. He's amazing.  What's the best wormer to use occasionally if I have to because of boarding? I read your articles, which say get a fecal test.  He's rubbing his tail a bit I guess.  Also, apparently with show jumpers, at shows they get body sore after the 3rd day and people use bute. I'd prefer not to do that. Do you have a product that would work the same?   He's on the magnesium daily that you suggested from Performance Equine.   Or do you suggest the bute with something to protect his gut?
A – Strongid is the safest dewormer to use if you have to give one.  For muscle soreness I like to use homeopathic arnica. Give the 30c potency. Mix 5 pellets in a 1 oz plastic squeeze bottle with 1/3 oz vodka and 2/3 distilled water. Give several squirts of this directly in the horse's mouth twice a day each day of showing.
Q (Part 1) – I have a 6yr old Shao Yin Morgan gelding working 1st/2nd level dressage. I suspect he is IR, as he has a fatty sheath, is a little cresty and gets sore on grass, especially winter rye. Not true laminitis, but just that barely perceptible feeling that his feet hurt and he looks ever so slightly stiff up front (no bounding digital pulses). He gets muscle stiff at times for no apparent reason (hind end). Some days he is sore, some days he is fine. A couple of months ago, he started holding his head up and to the side when I first pick up the trot. Sometimes the ears look "pinned", although this horse rarely ever pins his ears or complains and they are not totally flat, but they are definitely in a different position. Sometimes he "points" with his right ear, as if pointing at a problem on that side. He always warms up out of this. The body work person I use uses the Masterson Method, and has not found any significant problems with him.
When I was looking at the description of Shao Yin, I saw that they typically can have metabolic issues, which I suspect is the case here. Even more concerning, is that your book says that they can have neurologic problems that manifest as hind end weakness. My question is, is there a way to feed, supplement or otherwise manage him to give him the best chance of avoiding the neurologic problems?
He currently eats coastal hay in a slow feeder net in a dry lot. He gets Enrich Plus (diet balancer) and SmartMetabo-Lean pellets which provide additional Vit E, Mag and Selenium among other things.
A (Part 1) – Is your horse still having the IR symptoms on your current feeding program? If so, you will want to tighten up the diet and balance the minerals. Have you tried the ontario dehydrated timothy balance cubes? You can use them to replace at least a portion of your hay unless you have tested your hay and it is low sugar, low iron and balanced in trace minerals. The problem with adding mineral supplements to an unknown hay is they can perpetuate an imbalance. If you change to the timothy balance cubes you can use your balancer and trust it will work well.
The extra Mg and Se won't be needed if you can balance the overall diet.
If your horse is doing well with your current diet and you want to avoid hind end issues then you can look at adding some antioxidants to his diet. I like blue green algae or kelp for a Shao Yin horse. I would say to add some alfalfa but you have to find some that is not GMO. Also consider the Five Element formulas we have recently developed if you don't see a change with the diet.
Q (Part 2) – He has slimmed down some with exercise, coastal hay and the Enrich Plus diet balancer. He does not get sore feet. He is still about a 5+ to 6 on the 9 point body condition scale, and he still has a swollen/fatty sheath. Although he had that even when he was young and much thinner as a 3 yr old. So, how do I know if he is balanced in terms of IR?
I do think he was feeling better when I was feeding him alfalfa, but I removed it thinking it was too many calories. My source is non-gmo. Do you think I should add back in a flake a day?
I did have him on Spirulina, but stopped it a while ago. Do you think I should add it back in, or switch to blue green algae or kelp?
A (Part 2) – The only way to know your horses IR status for sure is to have a test for Glucose and Insulin. It sounds to me like he is in the compensated IR category which means you don't have to be quite as tight on the diet but if he got too much sugar he would go quickly into the decompensated stage and perhaps show more laminitis.
Your horse would do better on this blue green algae than spirulina. The BG algae has more of a drying effect and that would help with the sheath swelling. Alfalfa is also drying so cutting back on your coastal and feeding 1 small flake of alfalfa might work well. As your horse is a shao yin, the alfalfa would also supply needed minerals to offset hind end weakness. I am jealous that you can get non GMO alfalfa. Your horse might also benefit from our new 5 Element balancers. The Water formula has herbs to support the kidneys. We are still working on the website but check out the formulas at www.horsetemperament.com. You can also order the formulas at 1 888 917 8565. The purpose of the formulas is to help the horse avoid the issues often associated with each type.